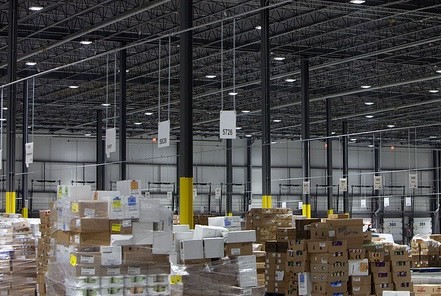 As a business owner, you know that an optimized supply chain can increase customer satisfaction and vastly improve shop floor operations. Conversely, a poorly functioning supply chain will ruin relationships with suppliers and customers, and will cause headaches in every aspect of business. Luckily, many business owners turn to their supply chain management (SCM) software to improve end-to-end supply chain management.
Yet choosing a SCM software solution isn't as simple and straightforward as the benefits of utilizing one. In fact, choosing SCM software can be a daunting task, especially for business owners who aren't sure what to look for when buying a new solution.
At Business-Software.com, users frequently ask, "What are the essential features of supply chain management software?" For this reason, we decided to create this short blog post to explain six key features of supply chain management software your company should look for when purchasing a solution.
1. Inventory Management

For a smooth, efficient supply chain, your business must effectively manage inventory. Raw materials and supplies, finished goods and spare or additional parts must be stored properly, in the right quantities at the right time. Inventory management capabilities help optimize inventory levels to ensure that your company never has to deal with overstocking or understocking. Real-time tools let you know where your inventory is at any given moment, allowing you to operate precisely.
The Bottom Line: Built-in inventory management ensures that your stock levels are optimized.
2. Order and Billing Management

It's no secret that robust order and billing management is of the utmost concern to your supply chain. Your SCM software solution should be able to create orders and bill clients from one centralized location, all from within the solution. Flexible order management capabilities are best, as they ensure that the solution can work with your unique order needs and are highly configurable.
The Bottom Line: Orders are how you generate profits, so a flexible, built-in order management system is a must-have for any business.
3. Logistics and Transportation Tools

Logistics and transportation tools ensure that your company transports materials and goods efficiently, all at the lowest possible cost. These tools provide the necessary resources to manage fuel costs and various ever-changing state and federal rules and regulations. To reduce overall operational costs and remove any kinks from the supply chain, these capabilities should be included within your chosen supply chain management solution. Dispatch management, appointment scheduling and yard management may all be included as part of your built-in logistics and transportation tools.
The Bottom Line: Transportation and logistics tools ensure that materials are shipped efficiently and cost-effectively.
4. Supplier Collaboration

The right supplier collaboration tools can make for a very smooth supply chain. These tools allow suppliers, employees and customers to collaborate from disparate locations in real time, ensuring that every key player is involved in problems or issues as they occur. Many SCM software solutions also provide a self-service portal where suppliers can access relevant information and submit requests, all directly through your company's supply chain management solution.
The Bottom Line: Supplier collaboration functions keep suppliers, customers and other key players in the loop. Empowered partners = a smoother supply chain.
5. Warehouse Management

Warehouse management tools allow your company to optimize warehouse stock and increase warehouse accuracy and efficiency. These capabilities allow companies to process orders from multiple sources, ensuring that all needs are fulfilled in a timely, cost-effective manner. Since warehouse operations are an important aspect of your supply chain, choosing a solution that lacks built-in warehouse management solutions could complicate and hinder the overall supply chain process. Yet with warehouse management, your company can oversee receiving, putaway, replenishment and cross docking.
The Bottom Line: Your warehouse is an important part of your overall supply chain. Make sure that your chosen SCM software will manage all necessary warehouse processes.
6. End-to-End Visibility of Your Supply Chain in Real Time

Complete end-to-end visibility of your supply chain is a must-have capability of any SCM software solution. Your employees need immediate, real-time access to various aspects of the supply chain to ensure that there are no hiccups, bottlenecks, missing goods or unhappy customers. Real-time capabilities allow your business to react to changes in the supply chain as they arise, as well as access up-to-date analytics that can inform future decisions. This feature is incredibly useful for businesses of any size, though larger businesses must have real-time capabilities to stay afloat.
The Bottom Line: You can't manage a supply chain without deep visibility into the end-to-end functions and processes. Real-time capabilities are a must-have for any business.
By Kiri Picone on Sep 3rd, 2014
[Image courtesy of Walmart]
Retrieved from:
http://www.business-software.com/blog/essential-features-of-supply-chain-management-software/
https://www.logeo.nl/wp-content/uploads/2014/12/essential-features-scm-hero-e1417686550883.jpg
296
441
Arthur Steijlen
https://www.logeo.nl/wp-content/uploads/2014/09/LOGEO_logo_small.png
Arthur Steijlen
2014-12-04 11:55:10
2014-12-04 12:38:43
You Asked, We Answered: What Are the Essential Features of Supply Chain Management Software?