Stay informed about Information Makers B.V. and all associated LoGeo TMS development by signing-up for our periodic mail-list by filling out your details on the right.
Sing-up today and receive periodic updates from LoGeo and developments in the Transportation Industry. Our mailing will on average be sent once every two months to inform you about all relevant news.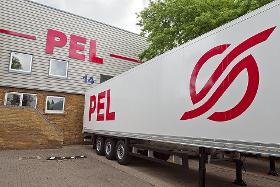 Premier European Logistics chooses LoGeo TMS!
On October the 20th, Premier European Logistics Ltd confirmed their decision to switch from their current legacy system to the LoGeo Transportation Management Solution from Information Makers B.V. Under this contract Information Makers will supply Premier European Logistics Ltd with its optimal Transportation Management Solution (TMS) including all the available modules for Automated Planning, Tracking & Tracing, Order Fulfillment, Warehouse Management (WMS) and Integrated Invoicing. Information Makers will also fully support their staff training and system maintenance to prepare PELL before applying LoGeo and initiating EDI (electronic data interchange) with PELL's major clients.  The new partnership is an important moment for LoGeo, Information Makers B.V. and also Premier European Logistics Ltd. With the help of LoGeo, PELL will soon be able to optimize its supply chain and increase its visibility.
To learn more about LoGeo and the IT solutions and services provided by Information Makers B.V., visit http://www.informationmakers.nl and https://www.logeo.nl.
Premier European Logistics Ltd
Founded by John Weller in 1999, Premier European Logistics Limited has been and continues to be at the fore front of the European logistics sector.
PEL is a specialised ADR European road transport company and is a preferred logistics provider in the flavorings, fragrances and speciality chemicals market. As a company, PEL has continuously grown since its formation. It's purpose built premises, based near London, Heathrow, has expended over the years to incorporate this growth, currently offering over 5,000 sq m.
The company is AEO certified, which ensures customs compliance, appropriate record-keeping, financial solvency and strict security and safety standards. In partnership with the Safram group, we are able to utilize their expertise and facilities, to enable us to offer a total specialized ADR Europe wide network. Specialized European wide ADR transport, separate chemical and food warehousing options AEO accredited.
To learn more about premier European Logistics, visit their website at http://www.pell.co.uk
https://www.logeo.nl/wp-content/uploads/2014/11/premier.jpg
187
280
Arthur Steijlen
https://www.logeo.nl/wp-content/uploads/2014/09/LOGEO_logo_small.png
Arthur Steijlen
2014-10-20 15:14:33
2014-11-27 12:50:38
Premier European Logistics chooses LoGeo TMS